Sorry, but post office pickup is currently unavailable.
Special offer
Get $10 when you make your first Foreign Cash order from your eligible Simplii™ account.†
Use promo code SIMPLIICASH to claim this offer.
Available with a No Fee Chequing Account, Personal Line of Credit or Secured Line of Credit.†

No extra fees when you buy foreign cash
Typically arrives in as little as 1 to 3 business days1
Choose the delivery option that's right for you
---
No time to pick up foreign cash? Get it delivered to your home when you order using your computer or mobile device.
Pick up your order from the most convenient Canada Post office location to you. We'll notify you by email when it's ready.
Why order foreign cash with us
---
You can buy currencies for almost anywhere in the world, up to $2,500 a day. Makes travelling the world a breeze.
Get a Canada Post tracking number and estimated delivery time emailed to you. Helps keep your trip planning on track.
Order cash in 3 easy steps:
---
1. Sign on to online banking or the mobile banking app and select Order Foreign Cash

2. Select either home delivery or Canada Post office pickup. Choose the currency and amount of money you want to order

3. Get notified when your cash is delivered or ready for pickup. Your order typically arrives in 1 to 3 business days1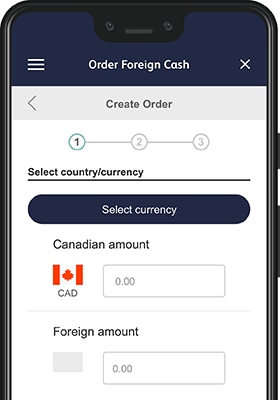 Refer and earn
Get $25 when you tell a friend and he or she sends their first Foreign Cash order.2 Visit the Order Foreign Cash page in online banking to get your referral link.
Order foreign cash from these accounts