Special offer
Send your first Global Money Transfer and get cash back.
Get $70
if you open your first eligible account.†
Get $30
if you already have an eligible account.‡
Use promo code SIMPLIIGMT to claim this offer.
Available with a No Fee Chequing Account, Personal Line of Credit or Secured Line of Credit.†

No transfer fees or deductions
Typically sends in as little as 1 to 3 business days1
Great rates when you send money worldwide
Where can I send money to with Simplii™?
---
Choose from over 75 countries around the world. Take care of the things that matter to you, quickly and securely.
Why transfer money with us
---
Transfer money safely and securely from your eligible Simplii account to the recipient's bank account.
Use online banking and the mobile banking app to track the status of your transfer.
Send money in 3 easy steps
---
1. Sign on to online or mobile banking and select Global Money Transfer

2. Choose the currency, country and person you want to send money to. Enter how much you want to send in Canadian dollars

3. Your recipient receives the funds in as little as 1 to 3 business days1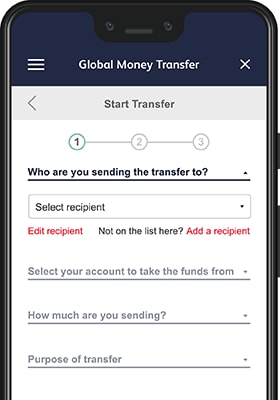 Refer and earn
Get $25 when you tell a friend and he or she sends their first Global Money Transfer.2 Visit the Global Money Transfer page in online banking to get your referral link.
Send money from these accounts