Important information! If you accepted a promotional interest rate offer or have a loan or GIC set to renew, we will send notices 21 and 5 days before expiry. Notices are usually sent via email if you've provided us with your email address. You can update your delivery preferences at any time by using the chat feature or calling us.
It's simple. With a no-fee chequing account, you get free daily banking
Life's always busy and you work hard every day for your money — it's time for your bank account to do the same.
Enjoy unlimited debit purchases, bill payments and withdrawals.
Setting up direct payroll deposits, account-to-account transfers and pre-authorized bill payments is easy.
Add overdraft protection if you need it.
Want your money to grow? Check out our High Interest Savings Account.
Welcome offer
Earn $400ⓘ when you become a new client
Cash in while you can. Open a No Fee Chequing Account today.
Conditions apply. Offer ends June 30, 2023.

Debit Mastercard
Use your money, your way. Enjoy the freedom to shop online and in-store wherever Mastercard is accepted. Plus, get real-time USD exchange rates.ⓘ
More reasons to love this account
Have your cheque deposited directly into your Simplii account and have access to your money right away. To download your direct deposit form, sign in to Online Banking and select "More Services".
Only available on our No Fee Chequing account. You can qualify for limits up to $5,000. A monthly charge of $4.97 applies only when you use this service, in addition to a fixed interest rate of 19% on overdraft balances. Overdraft protection can help you in a short-term bind. For long-term solutions, look at our Personal Line of Credit or a Personal Loan.
Set up automatic payments and pay your bills on time, every time. To download your Automatic Payments form, sign in to Online Banking and select "More Services".
Make transferring money between accounts a breeze. Set up automatic transfers through your online banking.
Send a free personalized digital gift card to your family and friends in Canada for any occasion.

Bring a friend. Earn

$125

. Repeat.
Earn $125 each time a friend opens a No Fee Chequing Account or another eligible account using your unique referral link. Share your link and spread the word — your friends will get $50 too.ⓘ
Interest is calculated by multiplying the daily interest rate for each tier by the portion of the daily closing balance in that tier.
Rates subject to change without prior notice.
A monthly charge will apply when you use this service, in addition to a fixed interest rate on overdraft balances.
New in Canada? Make the switch to digital banking.
Get the perks of no-fee daily banking with the New to Canada Banking Program. Complete the application online before you arrive or once you're here. Starting a new life can be complicated, but your banking doesn't have to be.
Go digital to fit

your lifestyle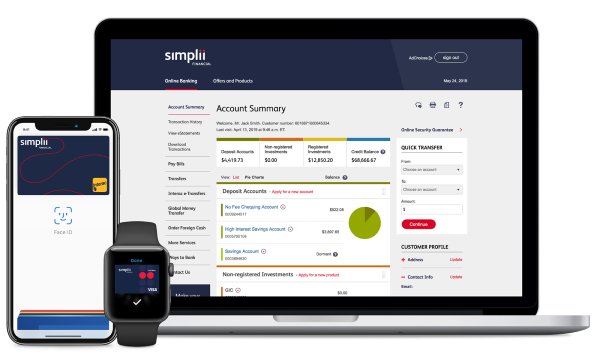 Whether it's online or through the mobile app, you can bank anywhere at any time.
Verify your identity with ease
NEW Digital banking has never been so simple. With Interac® document verification service, you can verify your identity safely from the comfort of your own home.
Can't find what you're looking for?
Use the arrow keys for suggested results.
Here are the top matches for your search.
Other questions people were interested in.