Available with a No Fee Chequing Account, USD Savings Account, Personal Line of Credit, or Secured Line of Credit or when paying for a Global Money Transfer using your Cash Back Visa Card.ⓘ
No transfer fees or deductions
For many countries, send in both the local currency and U.S. dollars





Send money in 3 easy steps
---
Sign on to online or mobile banking and select Global Money Transfer

Choose the currency, country and person you want to send money to. Enter how much you want to send in Canadian dollars


Your recipient receives the funds in as little as 1 to 3 business daysⓘ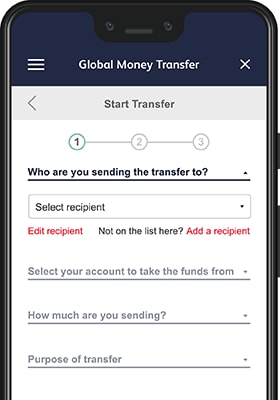 Why transfer money with us
---
Safe and secure transfers
Transfer money safely and securely from your eligible Simplii account to the recipient's bank account.
Easy to track your money
Use online banking and the mobile banking app to track the status of your transfer.
NEW
Earn cash back rewards
Get cash back when you pay for a Global Money Transfer using your Cash Back Visa Card.ⓘ, ⓘ Plus, you'll pay no transfer fees and no interest as long as you pay your balance by the payment due date.ⓘ
Being a Simplii friend has its perks
Refer and earn
Get $50 when you tell a friend about Global Money Transfer and they send money abroad.ⓘ To get your referral link, sign on to online banking and go to Global Money Transfer.
Know someone who's moving to Canada?
Get $50 for yourself and a friend when they move to Canada and open a No Fee Chequing Account with us through the New to Canada Banking Program.