Why is everyone talking about fintech? For one, it can make your life simpler. Here are a few trends to
know about.
You've likely heard the moniker "fintech" at some point in the past couple of years. But in a digital world flush with buzzwords, the meaning and real-world implications of the term can be a little vague.
But you're probably already using fintech in your routine every day and you may not even know it. The term refers to all the ways in which technology is disrupting the banking and financial services sectors, from newer advancements like robo-advisors to the mobile payment apps you've been using for years.
Fintech innovations are revolutionizing the way today's financial institutions do business and serve their clients. In fact, there are so many game-changing innovations floating around these days that they can be hard to keep up with. If you haven't yet figured out the difference between cryptocurrencies and blockchain, you're not alone.
Luckily, you don't need a computer science degree to understand fintech trends. There's good reason to keep abreast of these burgeoning tools, too: they can help you simplify your finances and organize your life.
Here are a few fintech innovations you should know about.
With a name like "robo-advisor", you might think that this technology refers to android-like creatures you can meet with for financial planning advice. But as of yet, there are no friendly robots sitting in offices waiting to chat with you about your RRSP.
Robo-advisors are online programs that help you invest your money via a series of computer algorithms. Most robo-advisor companies invest your funds in Exchange Traded Funds (ETFs), and their services typically involve limited or no contact with a human, although some do offer the option to talk to a real, live person.
When you sign up with a robo-advisor, you answer questions designed to help the program better understand your risk tolerance and financial goals. The program then creates an investment portfolio based on your needs. Many of today's robo-advisors are dynamic, too. They automatically rebalance your portfolio as markets shift to ensure you're not over-invested in one sector.
One key benefit of robo-advisors is that their services are often available for relatively low fees. This makes them an attractive option for investors who are just starting out and don't have complex financial needs or portfolios.
As data becomes increasingly central to corporate operations and consumer markets, companies are finding better ways to store, access and use big data. Banks can now collect data about how their customers use online and mobile banking tools, and deploy those insights to improve user experiences. If customers spend more time on a specific part of the website, for instance, companies can make that page easier to access, making the customer's visit to the site a more efficient and positive experience.
Big data also allows financial organizations to get a better idea of customer profiles and create products tailored to specific demographics or needs. For example, if a bank discovers that its millennial customers are increasingly purchasing used vehicles, it might opt to change the terms of its auto loans policy, ensuring the loans can be applied to used cars in addition to new ones.
Or, data might show that students who get good marks are more likely to repay their student loans. In that case, a bank or financial institution could offer personal loans at a lower rate and with better terms to high-performing students, even ones without extensive credit histories.
If you have money invested in a mutual fund, big data might even help improve your return. Institutional investors are now using data to track and better understand intricacies of the stock market, which helps boost the performance of your funds.
There are countless ways in which big data has potential to help financial institutions make informed decisions and provide personalized service to customers, particularly as the technology improves and data sets become richer and more nuanced.
Technology is changing how society pays for things and how secure those payments are. With today's smorgasbord of available mobile payment technologies, it's now possible to leave your wallet at home and still get a cup of coffee at your favourite café or purchase a t-shirt from your go-to store.
It might not seem cutting-edge, but tapping your chip card in order to pay is a fintech innovation that increases your speed of payment and simplifies your financial life. If you prefer to input your PIN, the chip card technology helps secure your card from fraud and theft.
This is all just the beginning of how financial institutions and fintech start-ups will revolutionize payments. In the future, you might use your fingerprints or a retina scan to pay for groceries. Already, biometrics technologies are being considered to help verify your identity when you're paying with a credit card. These technologies will ensure that only you are able to use your debit and credit accounts, even without a smartphone or physical card on hand.
Other innovations you're likely to see more of in the future are cashless and cashier-less stores, where you scan a code on an app when you walk in the door, and your purchases automatically process upon exit. This technology is already being tested in some stores in the U.S.Opens a new window in your browser.
Budgeting apps have emerged in recent years to help users keep track of bills, set spending strategies and meet savings goals. Most of these apps connect to financial accounts like your bank balance and credit cards. They then record your spending habits and automatically sort each of your purchases into a series of budgetary categories.
Typically, these tools are fueled by algorithms that learn as you use the app. For instance, they might learn to recognize that a purchase at a grocery store is likely to be included in your food budget. Some apps even send you alerts when you're getting close to your maximum spending allowance. Others will suggest ways for you to save money on a monthly basis.
While third-party budgeting apps are popular, banks have been innovating in the mobile game, too, and many have budgeting apps of their own. This makes it simpler for customers, since it allows them to do all their banking and budgeting in one place.
Digital or cryptocurrencies are currencies created by a complicated process of digital mining that requires computers to solve complex mathematical equations.
Most consumers and investors, however, aren't miners themselves. Instead, they typically buy cryptocurrency on a digital exchange, where it's possible to purchase niche currencies like Litecoin or Dogecoin in addition to the more popular Bitcoin. In order to buy e-currencies, you need a digital wallet where the currencies can be deposited.
While digital currencies like Bitcoin provide extra privacy with transactions and have increased in value significantly since their inception, their volatility makes them a risky investment. In addition, governments continue to find new ways to regulate this budding technology, so the future of many cryptocurrencies remains up in the air.
Blockchain was first created as a way to secure Bitcoin transactions, but it's evolved into a method to secure many other kinds of transactions, both financial and otherwise. Essentially, blockchain platforms create a digital ledger that can't be changed or tampered with. This ensures a very high level of security that's poised to augment the world of banking, among innumerable other industries.
There will be many ways in which you'll soon see the value of blockchain at work beyond simply having easy access to the back-end of financial transactions. For example, you might one day be able use blockchain technology to track things like the supply chain of your car, groceries or even your engagement ringOpens a new window in your browser.. This type of use case has been touted as a way for consumers to make more educated purchasing decisions.
When it comes to things like loans, blockchain could also cut down on paperwork and enable you to get your money faster and more securely. Digital ledger technology (DLT), another term for blockchain, could even someday be used to create a better alternative to credit scores, since it could be leveraged to track your financial behaviour more effectively.
Here's a familiar scenario: you're out with friends, and it's time to split the bill. In the past, you had to figure out what each person owed or else play a risky game of credit card roulette. But with e-transfers, splitting expenses has never been easier.
E-transfers are quickly gaining traction as an easy, stress-free way to transfer funds to friends, family, roommates or third-party vendors. Why worry about whether or not you have exact change to pay back that coworker who grabbed you a sandwich last week? Now, you can just send them a mobile or email e-transfer and get on with your day.
E-transfers are also becoming easier and the methods for conducting them more advanced. You can now sign up to get all your e-transfers automatically deposited without the need for passwords, which means one less step to take.
8. Mobile cheque depositing
Sometimes you just don't have time to make it to a bank branch or ATM to deposit your cheques. Luckily, in the last few years, banks have released technology that allows you to deposit your cheques via mobile app. All you have to do is take a picture of your cheque, input the amount and submit. It's as easy as that and saves you a 30-minute trip to the bank.
9. Machine learning and

artificial intelligence
Financial institutions and apps are increasingly leveraging artificial intelligence (AI) to improve their products and services. This technology umbrella includes algorithms that are designed to learn and constantly improve their performance or accuracy (a process called machine learning, or ML), as well as chatbots that are equipped to interact with customers to provide quick answers to FAQs.
There are countless potential use cases for these rapidly proliferating technologies. AI and ML can be used to help financial management companies increase the yield of their investments. They might help a budgeting app learn to automatically categorize spending. It's likely that both AI and ML will increasingly be used to facilitate improvement of all the technologies that appear on this list, including capabilities like search, personalization and even financial planning advice via apps or other interfaces.
Fintech making our

lives simpler
While fintech might initially seem hard to understand, how it affects your life is simple: All of these innovations promise to make your life and how you manage your money easier in the future. From simply looking at a screen to pay for your lunch (using eye-scanning biometrics payments), to data-driven suggestions that help your retirement fund prosper (reliant upon big data, AI and ML), you'll be able to think less about your money and more about living your life to the fullest — all thanks to fintech.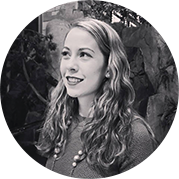 Written by
Amanda Reaume
Amanda is a millennial personal finance writer who has been published in Time.com, USAToday, the Globe and Mail, the Vancouver Sun, and Forbes. She wrote the book, Money is Everything: Personal Finance for the Brave New Economy, a primer on money for millennials.