A laneway house can reap big rewards in rental income. These 3 cities are making the process easier for homeowners.
Real estate prices continue to climb in Canada's bigger cities. At the same time, multi-generational living is on the rise. As a result, a new type of affordable housing is starting to catch on.
Enter the laneway home, which not only offers families the ability to live together in otherwise expensive urban areas, but also makes generating rental income a cinch.
Often constructed as tiny houses, laneway homes are self-contained units of typically 600 to 900 square feet or 56 to 84 square metres. They're built as a second dwelling on an existing lot that backs or fronts onto a laneway. Perhaps the biggest draw to this living setup is that laneway homes avoid condo fees and extra land costs.
Changing Canadian demographics
A Statistics Canada census found the number of multi-generational households in Canada increased 37.5% between 2001 and 2016Opens a new window in your browser.. It also showed that more seniors are living with their grandchildrenOpens a new window in your browser..
To care for older family members while still affording them the privacy of a completely separate space, laneway homes are fast emerging as a simple solution. There are many reasons why a family may consider a laneway home: free childcare in the form of grandparents who can act as on-site, as-needed babysitters, the ability to live downtown in a city where it would be unaffordable otherwise or caring for a family member who desires independence but may not be able to live completely alone.
With more than 3,000 permits issued to build since the laneway housing program was adopted in 2009, Vancouver was the first to catch on to this trend. It's issued a target to build an additional 4,000 new laneway houses by 2028. Meanwhile, other cities, including Toronto and Calgary, are beginning to follow its lead.
Since navigating the permits, approvals and guidelines required to build a laneway home varies greatly from city to city, we've broken it down for you in simple, easy-to-follow steps.
Steps to building a laneway house in Vancouver
Rory OFlynn, owner of Vancouver-based TSL Laneway Homes, says he sees 2-bedroom laneway homes rent for $3,500 a month and they typically cost less than $400,000 to build.
The rental income could cover the mortgage for building the house, while also creating a positive cash flow and increasing the resale value of the entire property, he says.
"The Vancouver housing market is strong and there is also a lot of demand here for small footprints, affordability and independent living for older generations," he adds.
Bonus: the utility bills incurred in laneway homes are relatively low. Almost half of occupants reported that they pay less than $50 per month on hydro and gas when polled in a survey by the City of Vancouver (PDF, 1.1 MB) Opens a new window in your browser..
If you're thinking about building a laneway house in Vancouver, OFlynn recommends the following:
Don't forget to read through relevant city regulations before you begin building. If you live in Vancouver and want to add a laneway home to your property, the City of Vancouver has compiled an easy-to-follow list of steps to takeOpens a new window in your browser..
When your laneway home is complete, check with the city before moving in to see if you need an occupancy permitOpens a new window in your browser..
Steps to building a laneway house in Toronto
Toronto approved its laneway home program in 2018. That's potentially good news for the owners of the 47,000 lots that are next to a laneway, though they may not all be big enough to fit a second dwelling.
"Thanks to the new rules, homeowners can just build a laneway home without needing site planning approval and rezoning permission, as long as they apply for a business permit and meet specific criteria," says Lynda Macdonald, director of Community Planning in the Toronto and East York District.
"Those criteria include not being more than 2 storeys or 6 metres tall, located no closer than 5 metres to the primary house that faces the street on that property and either backing or fronting on a laneway," she adds.
Toronto city staff is currently working on a set of guidelines specific to laneway suites that will be available publicly online to homeowners and their consultants by the end of 2019.
What's notable about the Toronto market is that short-term rentals, like Airbnb for example, aren't permittedOpens a new window in your browser.. However, the city is looking at laneway homes as a way to create more affordable options for long-term rental housing. As such, to provide a financial incentive for homeowners, they've launched an Affordable Laneway Suites Pilot ProgramOpens a new window in your browser.. The program provides loans up to $50,000, forgivable in 15 years from the date the first tenant occupies the laneway suite.
Steps to building a laneway house in Calgary
As the process for building a laneway home in Calgary has been simplified over the past 3 years, the interest has increased, says senior city planner Dane Morris.
"It used to be you could only build them in the inner city, but you can now build a laneway home anywhere, in any neighbourhood in Calgary," he says.
As of 2018, the city doesn't regulate short-term rentals. "However, we are looking at a licensing regime, which would mean you'd need to obtain a business licence if you were renting out your home," says Morris.
To address concerns like privacy, loss of sunlight and aesthetic appeal from property owners and their neighbours, the city has released a set of building guidelines for laneway homes as a resourceOpens a new window in your browser..
Meanwhile, homeowner Brenda Erskine brings in $2,000 in monthly rental income on her laneway suite, which is fully rented out for months in advance.
She originally thought about tearing down her 1920s bungalow in the Crescent Heights neighbourhood, but realized that the cost of renovations would be more than what it was worth.
"I knew a laneway suite would work on my property. It's a beautiful space — everyone has commented on… how lovely it is, and [it's] very functional. It feels a lot bigger than it is. You don't feel like you're in a tiny condo in a tower."
To maximize the space and keep it rented, Erskine offers the following pointers:
As the price of real estate continues to soar, laneway homes present a more affordable way for families to stay closer together and enjoy inner-city living. Building these tiny houses on your land is also a straightforward and innovative way to raise property values, while bringing in extra rental income every month.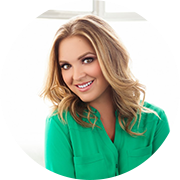 Written by
Barbara Balfour
Barbara Balfour is a TV host, producer and prolific print journalist with bylines in the BBC, ELLE, the Economist Group and every major daily newspaper in Canada. She has salsa danced under the stars in Cuba, sipped homemade wine in Georgia and interviewed Noam Chomsky in his office in Boston. Her work has taken her to more than 40 countries.