Easy, doable tips for building meaningful, lasting friendships in your late 20s and
early 30s.
Your late 20s and early 30s are an exciting time of transformative personal growth. Maybe you've finally earned that big promotion or moved to a new city to pursue your dream job. Or, perhaps you've just tied the knot, bought your first home or are about to have a baby. Now, you're slowly adjusting to your new life as a manager, homeowner, partner or parent.
All of these milestones represent wonderful new chapters of your life. But in the midst of all this change, you may have noticed some of your friendships falling out of sync.
It's not just you who has noticed the trend. Research says that in our mid-20s, our friend circle gets smaller. "People become more focused on certain relationships and maintain those relationships," a researcher at Aalto University and co-author of a social focus and friendship study, Kunal Bhattacharya, said to BustleOpens a new window in your browser.. "You have new family contacts developing, but your casual circle shrinks."
In your 20s, friendship is about quantity, whereas your 30s become a time of building fewer but stronger, more focused friendships, according to researchOpens a new window in your browser.. Part of this is due to the fact that you tend to become busier as you move through adulthood. "If you are spreading yourself too thin, it may possibly interfere with your ability to have those high-quality, intimate, emotionally satisfying relationships," Cheryl Carmichael, author of a 30-year longitudinal study on friendship, said in an interviewOpens a new window in your browser..

So how do you build and maintain those tight, meaningful relationships at this stage in your life? How do you make new friends as a bona fide "grown-up"? And how do you do so in an age where so much connection and interaction is online through social media?
Taking online friendships offline
If you've ever played Six Degrees of Kevin Bacon, you know it's a game based on the theory that any 2 people on Earth are 6 or fewer connections apart from one another (or, in this case, from actor Kevin Bacon). With social media, it's probably not hard to find out what acquaintance you share with the people in your streetcar or waiting alongside you at the crosswalk.

You may even be "friends" already.
In your 20s, it's easy to fall into a hunter-gatherer relationship with digital friendships. You meet people at parties and connect online. Workplaces often offer a steady flow of fresh social media connections. Plus, those friends from high school, grade school, your travels, old jobs and so on, are all added to your profile until the number of contacts swells.
Oxford University anthropologist Robin Dunbar's research surrounding primate brain size and social groups predicted that we have the ability to maintain about 150 friendships (which coincides with the average number of friends Facebook users tend to have: 155). After that, things get murky."
Social media certainly help to slow down the natural rate of decay in relationship quality that would set in once we cannot readily meet friends face-to-face," Dunbar told The TelegraphOpens a new window in your browser.. "But no amount of social media will prevent a friend eventually becoming 'just another acquaintance' if you don't meet face-to-face from time to time."
It's become so much easier to connect quickly through digital channels like social media and email. But for a lot of relationships, trust is established in person, not digitally. So, if you've made those friendships in real life, it's about reconnecting with that initial sense of trust. Even just asking to meet up over a coffee or lunch can be enough to tap into that feeling of security.
Time is also key when it comes to friendship, according to researchOpens a new window in your browser.. Around 30 hours of socializing gets you to casual friend territory, and another 110 hours means you're "real friends". It takes 300 hours overall to become close friends. But the study also points out that we make fairly quick decisions over the "desirability and likability" of someone after a short time together.
With that in mind, try rekindling an old friendship over coffee or grabbing a bite with a colleague you haven't seen in a while. It'll help you gauge if the spark is still there and worth nurturing. If not, you've likely got a social media page of potential friendships waiting to be explored.
Make new friends out of

old friends
The novelty of connecting with childhood friends online can easily be overlooked. But later in life, these contacts can present a positive social opportunity.
"Reconnected friends can quickly recapture much of the trust they previously built, while offering each other a dash of novelty drawn from whatever they've been up to in the meantime," wrote Ben Healy in The AtlanticOpens a new window in your browser.. The time commitment for re-igniting old friendships is much lower, making these types of reconnections more efficient, according to research on "dormant ties" (PDF, 245 KB) Opens a new window in your browser..
Many times, these relationships were formed at a point before you were "you". In fact, you probably weren't even yet figuring out who "you" wanted to be. Fast-forward to your adult decades of life, and you likely have a better idea of what your interests are and who you want to be, even if you haven't quite gotten there yet.
Bringing old friends back into your life, as the study on dormant ties puts it, "could reactivate a residue of 'previously attained common understandings and feelings', augmenting a contact's ability and willingness to provide valuable advice." Translation: maybe you became friends because you had the same backpack in grade school, but there was something that compelled you to pick that backpack. You might not both still be interested in unicorns or wrestling (or wrestling unicorns), but a quick scan of someone's social media can tell you where you do share common interests.
If you're not already friends online, make the connection, and try getting together in real life.
Swipe right for friendship
Few things offer up a gauge of what's trending quite like technology. And if the app market is any indicator, we're thinking about building friendships in a social media world. Though it might seem an unlikely place to meet new acquaintances, the App Store may help you make some like-minded friends.

There are a number of apps that parrot the dating model but encourage you to swipe platonically. Some use proximity while others cater to women specifically. Another method that some apps use is to generate group hang-out sessions to take the pressure off a 1-on-1. Others target interests or meetups in your area, and yet others are based off of hobbies like being physically active.
But in the end, technology is no substitute. Consider it more or less like the friend setting up a blind date. But it lets you build friendships aligned with who you are now, without having to worry about what defined you in your teenage or university years. It gives you a forum to lay groundwork, establish trust and be vulnerable. And when you do find friends through these apps, at least you know you're both on the same page.
"Perhaps the most important reason why friendship apps are so useful is because they take the guessing work or ambiguity out of the equation. That is, it's clear that everyone using them is open to meeting new people," writes Miriam Kirmayer, therapist and friendship expert, in a piece for Psychology TodayOpens a new window in your browser.. "This alone can often be the boost that's needed to feel comfortable reaching out and making friends."
Technology is changing the way we build relationships. Use it to your advantage. And if you do make friends through digital means, follow up and take the time to nurture those relationships.
Shrinking circles, but better friendships
It's not hard to feel disconnected in the transitionary period of your late 20s and early 30s. Smaller circles mean fewer people to call when you find free time in your schedule. But when you do get together, it helps to actually "do" something, Dunbar suggestsOpens a new window in your browser..
"One of the best ways is [by] joining a singing club. We did a study comparing novice singing classes with novice hobby classes in terms of how much these activities produced feelings of social bonding," Dunbar told Scientific American. "Singing produces a massive hit of endorphins, and that makes you feel very bonded to the people with whom you're doing it."
They call it the "icebreaker effect". When you get together with people once a week to sing or dance or jog, it "ramps up this sense of belonging." The idiom for the modern age should be, "friends who do things together, stay together".
"You're going to get an endorphin kick from any physical activity, but if it's done in synchronicity with somebody else, the effect ramps up significantly, our studies of dancers and rowers have found," said Dunbar.
The best advice: do some digging on sports and social clubs in your community. Maybe there's an after-work dodgeball league you can join or dance classes where you can be around new people also pushing outside their comfort zones. Websites and community boards can give you a rundown of the sorts of gatherings going on around you.
Finally, recognize that no matter how challenging it can seem to make friends in the throes of adulthood, you're not alone. Just look at the sheer volume of research about relationships, the spread of social media sites and the number of apps being designed to bring friends together. It's a shared experience. Most people in their late-20s and early-30s are looking to make sense of this point in their life and seeking a friend to share it with.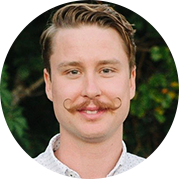 Written by
Andrew Seale
Andrew is a Toronto-based freelance journalist drawn to stories about people and the things they do through the lens of finance, entrepreneurship and travel.