The Danish practice of hygge embraces coziness and
well-being.
Try these
10 tips to add hygge to
your life.
The Danes make it through the long winter season with minimal sunlight yet remain, reportedlyOpens a new window in your browser., some of the happiest people in the world. This simple fact can be a bit of a head-scratcher to those who prefer sunshine and short sleeves to ice and short days.
But at least part of the answer may be rooted in the Danish concept of "hygge," which in recent years has entered the larger cultural zeitgeist. Pronounced "HUE-gah," this term translates roughly to "well-being." It's associated with feelings of coziness, and has remained an integral part of Danish cultural identity since the word was first popularized in the early 1800s.
The good news is, you don't have to live in Scandinavia to embrace this lifestyle trend. While hygge remains a challenging concept for non-Danes to define, these few easy steps provide a starter kit for enjoying the simple things in life.
1. Find warmth amidst

the cold
If there was ever a time to break out the fuzzy knee-high socks with red pom-poms that your aunt gave you last Christmas, this would be it. When it's cold outside, bring the warmth back in with fleecy leggings, soft hoodies, sweatpants that let you comfortably exhale and warm slippers that cradle your tootsies in a hug.
If all else fails, slip into a hot bubble bath and fold a towel over to serve as a handy neck pillow. You might be in there for a while.
2. Create a cocoon

of safety
Is there a handy nook at home from which you can watch the world pass by? An armchair that envelops you in its embrace? Curling up under a weighted blanket or a faux fur throw will enhance the feelings of safety and comfort that hygge is all about.
3. Lighting is everything
When was the last time you felt relaxed in a changing room? Now, imagine the effect if those harsh fluorescent bulbs were replaced with dimmable lighting. In your own home, floor and table lamps will help you harness the intimacy of shadow, while glass candle holders can amplify warm, flickering candlelight that will soothe you after a long day and get you ready for a great night's sleep.
Clear the clutter, the unpaid bills and the pizza flyers from your bookshelves, tables and nightstands. Keep only items you need and love in your line of sight — framed photos of loved ones, treasured keepsakes from your travels and other particularly meaningful mementos that make you happy when you look at them.
For many people, comfort food usually includes carbs, and lots of 'em. Think: homemade soups, chunky stews, freshly baked bread, hot apple pie and warm cocoa in a mug you can wrap both hands around.
To fight off winter slumps, invite some friends over for a comfort food fest. Host a winter wonderland potluck to swap favourite recipes with a "five-ingredient maximum" rule to keep things simple and stress-free. Make enough to take with you to work for lunch the next day to keep those hygge vibes coming.
6. Channel nostalgia through vintage and

antique items
Consider combining vintage and modern pieces to inspire a sense of nostalgic calm in your home.
Case in point: Danish home decor company Miss Étoile recently launched its first café in Aarhus (Denmark's second largest city) in a 1921 building that once housed a cinema. Many of the original building's decorative elements have been retained in the café's decor. Here, patrons sip on tea surrounded by all manner of fluffy blankets, pillows and vintage whimsy — and what could possibly be more hygge than that?
Danish home decor is all about keeping things simple, subdued and calm. Matthew Currington, technical director at The Lighting Superstore in the UK, suggests using a minimalist colour palette in your home. "Try earthy colours such as whites, greys and other subdued tones — this could help you get the style without having to invest too much time or budget," he says.
Another key feature of Danish style is its emphasis on nature. "Investing in wooden furniture and experimenting with different natural textures such as sheepskin, wool and linen is a great place to start," says Currington.
"But while a pared-back aesthetic is common, that doesn't mean you can't shell out for high-quality items that will stand the test of time. It's all about striking the right balance between form and function."
8. Take periodic

tech breaks
Put the phone down, stop checking your work emails and unplug your Wi-Fi. If you truly want to adopt the hygge mindset, start viewing the space around you as a sanctuary from the everyday hustle and bustle.
Hygge is not just about taking time for self-care; it's also about being present with friends and paying attention to your surroundings. Invite your favourite people over for a round of board games, and spend the evening telling each other stories and jokes.
9. Stop to smell

the roses
Whether it's emanating from a pot of freshly brewed coffee, a bowl of buttery popcorn or your favourite vanilla-scented body lotion, smell goes a long way in making your surroundings feel more hygge. Scents that will lift your spirits and calm your nerves include jasmine, lavender and the smell of fresh linen; invest in some candles or diffusers to make your sanctuary smell as good as it looks.
10. Channel hygge

at work
A hygge mentality extends beyond the home. Put together a simple starter kit for the time you spend in the office. Take a mood music playlist, noise-cancelling headphones and your favourite herbal tea to work. Natural items like eucalyptus, fir branches or even a bowl of oranges can add magic to a space, says Nancy Ruddy, co-founder of architecture and interior design firm CetraRuddy. "Bringing the natural world inside adds to warmth and nurturing," she says. "Watching a tiny plant at your desk grow or an avocado pit bud provides the spirit of hygge."
If you don't have any meetings for the rest of the afternoon, why not slip on an uber-comfy hoodie over your dress shirt? To top it off, a daily five-minute meditation strategy to channel inner calm can be done discreetly at your desk.
We can all take a page out of the Danes' book when it comes to embracing the season and chanelling inner calm and physical coziness. The above tips are an easy place to start mastering the hygge mindset and reframing those blustery winter days as some of the best of the year.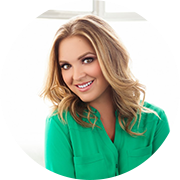 Written by
Barbara Balfour
Barbara is a TV host, producer and prolific print journalist with bylines in BBC, ELLE, the Economist Group, and every major daily newspaper in Canada. She has salsa danced in Cuba, sipped wine in the country of Georgia and interviewed Noam Chomsky in his office in Boston. Her work has taken her to more than 40 countries.