Every time you refuse single-use plastics, you're voting for a more sustainable future. Here's how to make the
transition simple.
We now know the Great Pacific Garbage Patch, an island of waste 3 times the size of France, is just 1 of 3 trash patches circulating through the world's oceans.Opens a new window in your browser.

A sizable amount of the waste that comprises these junk islands is made of plastic. The same properties that make the material so attractive as a tool, like durability and resistance to bacteria, give it a long lifespan in landfills and oceans. We've found plastic waste in remote parts of Antarctica and the deepest points of the oceanOpens a new window in your browser.. For the past few years, we've been hit with revelation after revelation of the toll that single-use plastic has on the environment.
In 70 years, we've produced more than 8.3 billion tonnes of plasticOpens a new window in your browser.. We've made it a part of our daily lives. And people around the world, including Canadians, are saying enough is enough. Straw and plastic cutlery pushback by fast food chains and plastic bag bans and taxes in cities like Victoria, Toronto and Montreal have elevated the movement to mainstream.
As the global plastic problem becomes more pronounced, it's no surprise that consumers are taking inventive measures to find their way out of the packaging dilemma. Some are even turning to the milk delivery and grocery store models of the 1950s.
But although it's challenging to avoid plastics altogether, options to be more environmentally conscientious abound. The following solutions not only help you lighten your footprint, but they can also make your life easier and save you time and money.
Making the case for

less plastic
About 80% of the plastic we've created over the past 70 years has stuck around. In fact, it will persist in some shape or form for hundreds, if not thousands, of years. For this reason, single-use plastics, items that are used only once and then tossed away, are particularly problematic.
Straws are often depicted as the epitome of single-use plastics. While straws have been around for more than 7,000 years, they only entered our daily habits in the 1950s with the advent of plastic straws. We're only just now acknowledging the impact of their throwaway nature.
Canadians throw out approximately 57 million straws daily (that's more than 2 billion straws per year), according to estimatesOpens a new window in your browser.. One billion plastic bags and 2.5 billion litres of bottled water are also used in Canada every year.
While there's a case for the utility of these items, there are also a slew of reusable alternatives. And although eliminating single-use plastics completely will take time and concentrated effort, there are a few easy things you can do today to start kicking your plastic habit.
Bea Johnson, author of Zero Waste Home, frequently talks about the five Rs: "Refuse what you do not need. Reduce what you do need. Reuse by using reusables. Recycle what you cannot refuse, reduce or reuse. Rot (compost) the rest."
As Johnson writes on her blog, switching from single-use, disposable products to reusables like refillable bottles and coffee cups, cloth napkins, shopping totes and rags can also save money. "You might find that you don't miss your paper towels, but rather enjoy the savings," she writes.
These savings are about more than just money — they also spare your precious time.
Disposability is rooted in time-saving, but as Johnson points out in Zero Waste Home, the process of ripping open a package, carrying recycling and garbage to and from the curb and going to the store to replace items on multiple occasions is more of a time-suck than simply reusing cups, cutlery and utensils. "It seems that we have been duped into thinking that multiple shopping and recycling trips required by disposability save more time than reusing a durable product," she writes.
Getting into the reusability mindset in your daily life is about taking a look at your habits, ridding yourself of those that favour disposability and convenience over reusability, and then building new habits, Johnson suggests.
The good news is that a number of innovative companies are redefining the way we consume, making reusing and refilling not just feasible, but simple to implement in your life.
Clean house, clean conscience
Cleaning is one of those spaces where we tend to turn to disposability. Sometimes, this is out of convenience, other times it's purely because the cleaning products on the market often come in plastic bottles. Your closet shelves are likely filled with them, from glass cleaners and surface wipes to dust-attracting sweepers and tile sprays.
Your magician's bag of cleaning tricks can be whittled down to about 3 items, however: one all-purpose cleaner, a vinegar-water solution for glass, and washable linens or rags for wipes. Once you've decluttered your cleaning kit, it's easier to transition to refillable spray bottles, mason jars or stainless steel containers. For cleaning tools, consider compostable alternatives with bamboo handles or plant-based sponges.

Most major cities have a few options for refilling your all-purpose cleaners, too. Canadian chain Bulk Barn, for example, sells bulk cleaning supplies. Toronto-based Saponetti hawks environmentally friendly, Canadian-made soaps and detergents ranging from all-purpose cleaners to bleach, and they offer a delivery program as well as DIY refill depots. Sapadilla, a company with a line of eco-friendly cleaning supplies, also has a series of refill stations across Canada.
The list continues: Bare Market, a package-free goods company, hosts pop-ups around Toronto at shops to offer refills for household products. On the West Coast, there's The Soap Dispensary and Soapstand, both of which offer refills in Vancouver, and West Coast Refill in Victoria also refills cleaning supplies. Prices range per product, but most places end up offering savings if you take your own containers.
Caring for yourself and

the planet
Take stock of what's in your bathroom vanity the next time you're cleaning, and you're likely to find some unnecessary plastic.
Luckily, it's easy to find alternatives. Beauty and personal care brands were early adopters in the shift away from disposable packaging. For that reason, there are lots of products that come in glass bottles or little-to-no packaging. Or, you can skip the bottle altogether: shampoo bars are an eco-conscientious and economic option that typically last around 80 washes, which means they'll likely outlast your favourite shampoo in a bottle.
It's not about adding more stops or complicating your shopping list so much as shopping where package-free options are readily available. In addition to cleaning supplies, Saponetti, Soapstand, Bare Market, West Coast Refill and The Soap Dispensary offer products ranging from hair and body care to natural and package-free personal hygiene items. Toronto-based eco + amour also stocks natural personal care products and sells them by weight if you take your own containers.
Online shopping is also a simple way to look for green solutions to complement your routine. Wild Minimalist, the Package Free Shop, Sustain Eco Store, A Greener Future and The Apothecary sell a number of personal care items in compostable or recyclable packaging, as well as products like bamboo hair brushes and zero-waste shaving kits.
B.Y.O. bag (and jar and container

and tote)
Groceries are one area where you can reap the benefits of ditching plastic. Sure, natural products can carry premium prices. But you easily make up ground by only buying exactly what you need rather than pre-packaged goods. You also may find yourself foregoing processed freezer foods in favour of fresh alternatives, which are typically healthier and often less expensive.
Thankfully, grocery stores are starting to offer more and more natural products. Along with this shift, many companies are devoting more attention towards the lifecycle of packaging, often using cardboards or recyclables.
In many cases, doing away with plastic comes down to meal planning and grocery lists. If you know what you're going to be buying, you can shop prepared with your own totes and canvas produce bags, reducing reliance on wrapped items and plastic packaging. Shopping with reusable containers or jars for wet items like cheese, meat and deli foods helps cut back on other types of packaging like styrofoam trays, plastic bags and wrap.
In addition to traditional bulk stores, there's also a growing number of zero-waste grocery stores that cater to people looking to ditch plastics and non-renewables. The website Zero Waste Canada is a useful resource for finding these types of shopsOpens a new window in your browser.. PareDown also has a list of zero-waste stores in various cities around the country.Opens a new window in your browser.
When you're travelling or commuting, it can be easy to fall into the single-use trap with disposable coffee cups, plastic cutlery, straws and water bottles. Having a kit handy with a reusable thermos, water bottle and a set of cutlery can help you refuse any single-use items when you're on the go.
Consider your dining habits as you go through your day, from the morning commute to your weekend takeout tendencies. Most coffee shops are already on board with the "bring your own thermos" trend and some will even offer a discount for the practice.
If you take lunch to work, try ditching the plastic zip bags in favour of reusable containers or non-plastic alternatives. And if you're ordering to-go food for a night in, ask the restaurant to hold the plastic cutlery so you can use your own at home.
As we start to make changes and move towards more environmentally conscientious decision-making, companies are following suit.
At the recent World Economic Forum in Davos, Switzerland, a coalition of the world's largest consumer product companies led by recycling firm TerraCycle unveiled Loop, a system where products can be delivered, collected, cleaned, refilled and redelivered. Packaging will be stainless steel and glass, and products will include everything from orange juice to detergent to mouthwash to ice cream. The pilot will offer about 300 productsOpens a new window in your browser.. When you're done and ready for a refill, simply place your Loop package on your doorstep.
It's just the beginning, and the process will take time to roll out. But programs like Loop are a step in the right direction, and they emphasize the impact you can have when you choose products that fit your values.
The waste created by plastic is a complex problem. It's one that surrounds us and everything we do. But the solution doesn't have to be complicated: small, simple changes to our habits and what we purchase can have an impact.
Tom Szaky, founder of TerraCycle said it best at Davos: "We vote multiple times a day for the future we want, based on the things we buy."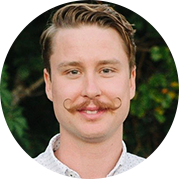 Written by
Andrew Seale
Andrew is a Toronto-based freelance journalist drawn to stories about people and the things they do through the lens of finance, entrepreneurship and travel.