Here's how to convince a potential employer that your life experiences make you the
best hire.
The definition of the phrase "career path" largely comes down to the generation making sense of the term. For the modern cohort of job seekers, the prescribed route — study, prepare for a career and follow the path forward — has been replaced with an indefinable trail smattered with sabbaticals and side hustles, gap years and extracurriculars.
It can be challenging to marry your life experiences, like the year you spent backpacking Europe, the social media account you've tirelessly built to thousands of followers or the techie meet-up you founded, with the skills an employer might be seeking.
But your experiences are just that: skills. These assets can make you a more dynamic hire.
Here are some easy ways to help your would-be employer see it that way.
The key to acing most job interviews (or even getting to the face-to-face part) is understanding the personality and tone of the company you're looking to join.
A few clicks around a company's blog and a quick skim of its LinkedIn profile will give you a little background on the hiring manager and the workplace culture you're walking into. Is the website written in a cheeky tone? Does the company seem to favour formality? Understanding these nuances goes a long way toward guiding how you should talk about the skills you've built.
What are the threads connecting your different experiences? What compelled you to organize that event or trip? What do you find so enticing about social media? Pick the anecdotes that distill your experiences into the evergreen skills most employers are after, such as critical thinking, adaptability, self-motivation, proficiency with information and global-mindedness.
For instance, the fundraiser you organized on a shoestring budget to support animal shelters showed self-motivation and resourcefulness. The gap year you took after university required an abundance of project management and budgeting skills. Your social media presence shows you have a knack for digital marketing and building a community. Rehearse the "story" behind each of these experiences, and be ready to elaborate in an interview.
Be concise about what you

do well
Employers are sometimes skimming hundreds of resumes looking for the right candidate. What's going to make yours pop?
Pick 2 or 3 experiences that align with skills the employer has called out in the job posting. Then, create separate, bulleted sections under those experiences. Under "travels", you might say that you developed comfort interacting and working with different cultures and learned to budget effectively. For social media, you could point out how you developed unique content and a strategy to grow your following, which illustrates marketing smarts. Your side hustle as a rideshare driver, particularly if you have a high rating, can be a sign of customer service and time management abilities.
You don't need to pursue extracurriculars that align with your career goals. In fact, the further you move from your comfort zone, the more dynamic you'll be down the road. But you do want to think long-term about how these experiences can be illustrated as assets. When it comes time to seek your dream job and nail that interview, be prepared to help your employer make sense of your scattered path.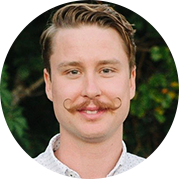 Written by
Andrew Seale
Andrew is a Toronto-based freelance journalist drawn to stories about people and the things they do through the lens of finance, entrepreneurship and travel.