Grown-up gap years are on the rise, but taking one is about more than quitting your job and buying a
plane ticket.
Aly Bird started working the moment she could. As a pre-teen, summers were spent babysitting. In high school, she worked in park maintenance at Presqu'ile Provincial Park, and in university, she held a job with the City of Barrie as an environmental education officer.
By the time she graduated with a master's degree in urban planning, she stepped off the stage in her cap and gown and directly into a challenging and satisfying role with a Toronto-based public engagement firm.

But after a move across the country and a shift into a new role, Bird found that work wasn't fulfilling her like it once had. She recognized the symptoms — she was heading straight toward burn-out.

"As millennials, we blaze through our 20s, and then we hit a point where we're like, 'Holy smoke, I can't sustain this,'" says Bird. This trajectory tracks with her own experience. "I needed to figure out what I really needed from my job to be happier. I needed to put the career on pause."

The rise of the 'grown-up

gap year'
Gap years are no longer just for high school grads. Increasingly, they're for grown-ups. Two-thirds of Canadians have thought about quitting their jobs and taking a life sabbatical, and 1 in 4 are already saving up for it based on a 2018 Simplii Financial™ Life Sabbatical Survey (PDF, 150 KB) Opens a new window in your browser..
Taking a mid-career break can have big benefits. Fully disconnecting from work obligations provides time to mentally recharge. It can also be an opportunity to reassess career goals and develop new skills such as learning a new language. But getting the full benefits of a gap year, or whatever period of time you choose to take off, involves a bit of forethought.
Diana Bartolic, an associate partner in human resources at Deloitte, says it's important to open up dialogue with your employer early in the process to see how they respond. Regardless of whether you'd like to travel the world, volunteer abroad or stay closer to home to work on personal projects, clear communication about your intentions and timeline is key. It all starts with a simple conversation.
"Come forward and say, 'In 3 years, this is what I'm planning, and this is what I need — how do we make it happen?'" she suggests.
Solutions for the short-

and long-term
Saving for a grown-up gap year can be made easier with the support of your employer. Ask them if they're willing to set up a deferred salary leave plan (DSLP), which allows Canadian employees to defer a portion of their income for a "self-funded leave of absence." With a DSLP, you can put aside up to one-third of your annual salary in order to take off between 6 months and a year in the future. Best of all, this income isn't taxable until you actually take your leave of absence.
Long-term planning isn't always an option, however, and employers aren't always immediately on board. If you're on the verge of burning out and need a break ASAP, start assessing your personal finances to determine when taking a sabbatical may be a realistic goal.

Not every financial solution will work for every person, and ultimately, taking time away from your career doesn't always mean quitting work entirely. While half of the "career gappers" interviewed for this article already had savings set aside prior to taking time off, the other half continued working part-time jobs or casual contracts during their career break.

Nor is a "grown-up gap year" necessarily about quitting your job and booking a round-the-world ticket. Dené Sinclair knows firsthand that a career break doesn't have to be synonymous with an extended vacation abroad. When Sinclair's full-time contract in tourism (a role that had her travelling away from her home in Winnipeg for more than 200 days of the year) came to an end at the same time she completed a graduate program, she was understandably due for a break. At the same time, she wasn't eager to jump on a plane again.

Sinclair had savings from a previous buyout, but still needed to tweak her financial habits. Along with her partner, Sinclair rejigged her monthly household budget to be able to take some much-needed time off work. It didn't require complex math or spreadsheets. Sinclair discovered it was as simple as cutting out superfluous expenses. In her budget, as an example, meal kit subscriptions and expensive salon appointments were the first to go.

The couple also examined their longer-term plans and determined that some goals, including selling their house and moving, could be put on pause. It also helped that incidental expenses related to working in a demanding career (such as eating out frequently) would be reduced dramatically.

The reward has been worth the cutbacks. "I feel like I'm living a luxurious life right now," says Sinclair. Her days are spent sewing, visiting family and working with her aunt, a traditional healer, on her First Nation community. "I am definitely shopping less, eating in much more and walking with my dog as recreation rather than spending money to do things."

Sinclair has no reservations about her decision, but she's discovered that she frequently has to explain it to others. "Everyone keeps asking, 'Oh, have you found a job yet?', which would infer that I'm looking. But I'm not looking. I'm not interested," she says.

Toronto-based career counsellor Fiona Bryan says this is a common response to career breaks. "Everybody's got an opinion ... You hear it all when you take time off," she says. She notes that the biggest challenge is answering questions once you embark upon a new job search.

"You have to think of how to explain it when you're ready to come back to work," says Bryan. "Give [potential employers] the cookie crumbs that led to your decision. Even if you say, 'My company was going through a major change, and I decided it was a great time for me to do X,' that will give them context." Having a one-liner prepared for this inevitable interview question is a simple but highly effective strategy for when you're ready to re-enter the job market.

The benefits of a

recovery period
When others ask, Sinclair talks about her time off with confidence. She gives a clear timeline on when she'll start looking for work, along with an elevator pitch response of what she's doing in the meantime: "I'm spending the next 4 months committed to personal development and saying 'yes' to all the things I couldn't when I was working full-time," she says.
Here, Sinclair hits on an important point: taking a career break isn't always about reassessing your goals. In some cases, it's about exactly what it sounds like — taking a break.

"I don't always think we need to be 'constructive' with our time in the sense that Americans and Canadians think," says Julia Rogers, a gap year consultant and president of the board of the Gap Year Association. "One of the reasons people need a sabbatical is because we're over-stretched in our daily lives. You should have a goal in mind, but maybe that goal should be to do less — and that's okay."

During Bird's time off, she wanted to reassess her career trajectory, but she didn't want to replicate the busy days that dictated her 9-to-5 life. Instead, she took a holistic approach. Her break included a long vacation to England and France, a hip-hop dance class, learning to make pottery, filmmaking camp and landing a lead role in a musical. Now, looking back on her grown-up gap year, she uses the metaphor of going to the gym to explain how the break was helpful.

"Muscles aren't built in the gym — they're built when you go home and recover properly," she says. "That period of my life was a recovery period where I got to relax and let my creative muscles come back and discover where I really found joy."

After 8 months, Bird returned to work refreshed and revived. She's since launched her own business as a life coach, and works part-time in marketing and consulting to supplement her income.

"When it came time to get back to work, I felt much more aware of what I needed to feel fulfilled in my career, and also what I need in my life to feel balanced," says Bird. "Today, because of that break, I'm a better leader and teammate and have a healthier approach to how I want to contribute to the world."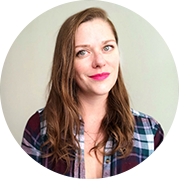 Written by
Jessica Lockhart
Jessica is a Canadian freelance journalist and fact checker who has written for The Toronto Star, enRoute and Chatelaine. She's currently based in New Zealand.