The simplest solution for freelancers starting a family may be to self-fund their
parental leave.
We were ready for a baby because we'd waited. The year and a half it took to get pregnant gave us time to prepare, time we excitedly filled with intense to-do list-making. This is who we are. Freelancers. Self-starters. The kind of people who block out "budget date" in their calendars on a Friday afternoon with 3 exclamation points. We liked being proactive, even when faced with the biggest surprise we'd ever experience.
But parental leave, which was a question mark, hung over us.
We'd both found it challenging to navigate and understand the Canadian government's EI Special Benefits for Self-Employed People websiteOpens a new window in your browser.. Sure, it was simple in theory. You sign up for benefits by paying self-employed EI premiums ($1.66 per $100 of insurable earnings in 2018), then 12 months after paying in, you're eligible to collect. The caveat is that once you opt in, you pay premiums throughout your freelance career, even if it ends up being more than you received during your leave.
We didn't know if it was worth it. We didn't even know if we'd be able to take the amount of time away from our businesses to justify a career's worth of premiums.
So we came up with a simpler solution—we'd self-fund our parental leave. As if on cue, our daughter gave us the heads-up she'd be coming in 9 months, allowing us less than a year to work out a plan and save.
Here's what we had to consider:
1. How much parental leave do we want

to take?
My wife wanted 4 months, including a few weeks near the end of the pregnancy, and I wanted 6 weeks with the option to take an additional month off in the summer when our daughter was a little older.
The takeaway: decide how much time you can take off with your family without impacting your business.
2. How will newborn expenses impact

our budget?
We try to keep a tight budget of what we spend in a given month, but like most people, sometimes we stray. With both of us planning on putting income on pause for a few months, we knew we'd need a buffer for unexpected and new expenses, especially things like diapers, wipes, clothing, etc. So, we increased our budget by 15% for the months we'd be off.
The takeaway: track your incoming and outgoing funds for a couple of months to get an idea of your budget, then add a buffer to decide your monthly parental leave needs.
3. What will it look like when we go back

to work?
Another consideration was how we'd make it work when we were both back in business. Since we'd be taking a limited parental leave, we knew childcare costs could be a factor, even if it was just 1 day a week when our meetings overlapped.
The takeaway: if you're taking a short leave, factor childcare costs into your budget for added support as you transition from parental leave to working.
4. Where would we put

the funds?
As freelancers, cash flow comes from a variety of clients, often irregularly. We had a rough idea of what we needed, so we opted to take 15% out of each paycheque and slide it into savings. Although 15% was far more aggressive than the 1.66% premium for employment insurance, we knew any leftover money could be sent to our tax-free savings account, put in a registered education savings plan or stashed in a savings account.
The takeaway: decide on the ideal per cent to put away from each paycheque, and research the various options available for making the most of this savings. This will be dependent on how much time you have to save and how much you'll need to self-fund your parental leave.
Part of the beauty of being a freelancer is having the flexibility to pursue clients and projects that interest you. If you're willing to see parental leave through the same lens, you can come up with a simple, flexible plan to self-fund your time off with your growing family.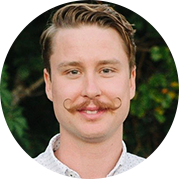 Written by
Andrew Seale
Andrew is a Toronto-based freelance journalist drawn to stories about people and the things they do through the lens of finance, entrepreneurship and travel.