This simple ritual is steeped in history, and can be a comforting part of your self-
care routine.
For centuries, cultures around the world have recognized that taking the time to prepare a cup of tea is about much more than quenching thirst. Whether you prefer Indian chai, Japanese matcha or British Earl Grey, drinking tea is a precious opportunity to slow down, increase your appreciation of simple pleasures and muse over your day.
Below, 3 Canadian tea sommeliers share their insights for how to brew the perfect cup of tea for your soothing self-care ritual.
Choose the right blend of tea

for you
If you like drinking tea in the morning, choose a black variety with spices like citrus or orange blossom to awaken your taste buds, suggests Sébastien Boirié from Kusmi Tea Canada.
If your cuppa is going to be part of your nighttime routine, sip on a non-caffeinated blend that will quiet your mind and get you ready for bed.
Research where your tea

comes from
Your body is a temple, so it's important to mind what you put into it. Ottawa-based tea sommelier Sheena Brady, founder of Tease Tea, suggests choosing premium loose-leaf tea that is certified organic, or tea bags that are high-quality, unbleached and made from organic plant materials.
There's also the matter of buying a product you can feel proud to make a part of your everyday routine. Purchasing tea brands that promote social causes like ethical sourcing and sustainable development can not only make your body feel good, but also help the world at large.
Be mindful of water temperature
The number 1 rule for brewing the perfect cup of tea is ensuring your water temperature is optimal, says Hamilton, Ontario-based tea sommelier Samantha Payne. "If you pour boiling water immediately over the tea leaves, they can become burnt and bitter, and this compromises both the flavour and the health benefits. Invest in a good temperature gauge kettle with different settings," she suggests.

A good rule of thumb is to steep white or green tea for 2 to 3 minutes at no higher than 75-80 degrees Celsius and black teas for 3 to 4 minutes at 85-90 degrees Celsius.
Embrace the present moment
From listening to the water boil to tipping a teapot to your cup, the ritual of making tea is an opportunity to be mindful of your surroundings and present in every action.
"Note the complex flavours, how much you're enjoying the aromas and only focus on that," says Brady. "One of the underlying values of tea is that it enables self-reflection while [you take] a moment for yourself."
Consider brewing the perfect concoction for not just your mug, but also for your bathtub. Thanks to high levels of antioxidants, tea is as good for your skin as it is for your emotional well-being, says Boirié. He suggests adding six tablespoons of green jasmine or green almond tea in a filter for a relaxing bath.
Brewing tea is also a great way to mark occasions for celebration, facilitate an important conversation or boost your mood on a rough day. "Tea is a wonderfully simple way to bring together different walks of life," says Payne.
She adds that both the act of sharing a cup of tea and enjoying one solo can be a simple way to celebrate special occasions or seek comfort. She cites a few ways in which tea has played a significant role in her own life experiences. "If you got an A on a test, if your boyfriend broke up with you, even after I got engaged, we'd put the kettle on at home and have a cup of tea to talk things over."
A simple ritual like sipping tea out of a favourite mug can prove calming in more ways than one. From the sensory act itself — inhaling the aromas and feeling the comforting heat emanating from the cup — to the mindfulness that such a process invites, brewing the perfect cup of tea can play a soothing role in just about any self-care routine.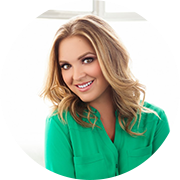 Written by
Barbara Balfour
Barbara is a TV host, producer and prolific print journalist with bylines in BBC, ELLE, the Economist Group, and every major daily newspaper in Canada. She has salsa danced in Cuba, sipped wine in the country of Georgia and interviewed Noam Chomsky in his office in Boston. Her work has taken her to more than 40 countries.