Entrepreneurs: Try these simple tips for taking care of your mental health. Your bottom line will
thank you.
The small-business-owner-as-thriving-entrepreneur archetype is cemented in Canada's culture. Social media posts celebrating the power of "hustling" flood our newsfeeds. Entrepreneurship in general is viewed as a symbol of breaking free from the status quo and living your best life.
But the small business or startup hustle isn't always as rosy as it looks online. The Canadian Mental Health Association recently released the results of a survey of 476 Canadian entrepreneurs (PDF, 1.7 MB) Opens a new window in your browser. . In the poll, almost half of respondents experienced low moods or felt "mentally tired" at least once a week and another 46% said that mental health issues interfered with their work.

If you're the owner of one of the approximately 1.2 million small businesses operating in Canada, the results of this survey may strike a nerve. Self-employment and small business ownership can often feel rocky, both financially and emotionally.

Proactive self-care solutions are one way to reduce burnout, and they may even boost your business's bottom line. Here are 3 simple ways to manage your mental health as a small business owner or entrepreneur.

1. Seek out a like-minded community
Rachel Kelly was working as a digital marketing freelancer in Toronto when a stable, ongoing contract was suddenly pulled out from under her.
As a result, "I lost my mojo," she says. "It felt almost like I was stuck and didn't know how to unlock the next level of my life."

Kelly found strength and support in the online freelance communities that she belonged to. Inspired, she decided to open a brick-and-mortar space where freelancers could support one another. In 2017, Kelly launched a co-working space for women called Make LemonadeOpens a new window in your browser..

"People get more support in a co-working space," says Kelly, who adds that Make Lemonade's members frequently discuss self-care techniques. "In a community, people are actively talking about how they're taking care of themselves."

A great alternative to coffee shops, libraries and sitting in your pyjamas at home, shared offices can provide freelancers and small business owners with a sense of purpose and camaraderie. To help with the expense, be sure to consult your accountant to learn if the cost of membership can be deducted as a business expense at the end of the year.

If the price tag seems too large to swallow or your community doesn't have a co-working space, there are other easy ways to find social stimuli. For example, it may pay to invest extra time in your everyday interactions. According to a 2014 study by University of British Columbia researchers, even people who have interactions with those outside their social circles, like bus drivers or baristas, report higher levels of social and emotional well-being than those who are more isolatedOpens a new window in your browser..

To get more face time in your life, consider setting up in-person meetings with clients or suppliers instead of relying exclusively on team chat apps, email or social media for business transactions. You'll likely see dividends in both your business and mood. Small business owners think that negotiating agreements is best done in person and 91% of tech small business owners say face time with clients or customers improves their ability to run their businesses, according to a 2016 survey by the Meetings Mean Business coalitionOpens a new window in your browser..

2. Financially invest in your own

mental health
You can't put a price on your health, right?
The truth is that if you've gone from a permanent gig to self-employment, you may suddenly be second-guessing whether you can afford that annual dental visit, let alone a weekly appointment with a therapist.

Luckily, there are several financial options at your disposal. First, you can consider joining a union related to your profession. These sometimes offer access to group dental and medical benefits. For example, freelance writers can access health coverage through the Canadian Media Guild. Many insurers also offer individualized health plans designed for self-employed individuals and small business owners.

If you choose to pay out of pocket, work with an accountant that specializes in small businesses. They can help you identify healthcare deductions. Whatever your insurance situation, be sure to ask your accountant if you can deduct premiums on your taxes.

Alternately, e-counselling may be another simple and affordable option for seeking help. Therapists offer support through talk, text and video conferencing, with some plans starting at around $30 per week for text-only services.

If paying for therapy is still out of grasp, ask your counsellor if they offer a sliding scale for services. Hollie Trobak, a registered psychologist and founder of REACH Psychological Services in Edmonton, says that although it may not be advertised, some mental health professionals set aside a portion of their caseload for pro bono cases.

"It can be hard to ask for free help, but asking for it is the best way to get what you need," she says.

3. Understand your self-worth
Trobak, a small business owner herself, says that the ability to set strong boundaries is one of the most important qualities to have when it comes to maintaining your mental health as an entrepreneur.
"You have to be honest with how much you can handle without taking on the guilt of not doing more or being more," she says. "You need to have unshakable self-esteem and need to know that however it turns out, you are enough and did enough."

Make Lemonade's Rachel Kelly says that understanding this is one of the hardest lessons that she has learned. While Make Lemonade provided the community she was craving, it wasn't a magic salve for the stress associated with small business ownership. In the early days, Kelly says she felt alone and had a sense of imposter syndrome. She was hesitant to pay herself what she deserved.

Since then, she's actively begun focusing on self-care, including hiring additional staff so that she has more time to take care of herself and her business.

"If I'm not at my best, then my business is not at its best. At the end of the day, it's about creating the life you want to live. You're allowed to make the rules," says Kelly. "My own self-worth and well-being is so much more important than my to-do list."

Running a business isn't just about balancing books or managing customer relationships, it's also about taking simple steps to check in with yourself on the regular. After all, a small investment in self-care can lead to big payoffs for both you and your business.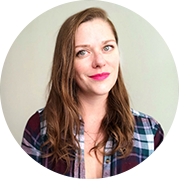 Written by
Jessica Lockhart
Jessica is a Canadian freelance journalist and fact checker who has written for The Toronto Star, enRoute and Chatelaine. She's currently based in New Zealand.